CRO/CDMO/CMO Service

HuiDa Collection has a talent pool specialized in microbial and chemical synthesis technology and established 6 technology platforms as below. Leveraging the six technical platforms, HuiDa Collection is committed to provide CRO/CDMO/CMO service package from strain development to commercial scale-up for microbial and synthetic APIs and chemicals to worldwide partners for products those have not been included in our library or in large quantity.
STRAIN TECHNOLOGY
With more than 20 years of experience in the aspect of traditional strain breeding technology, we can effectively improve bacteria, actinomycetes, mold, yeast, etc. and transform primitive strain into industrializable strain.


Strain breeding

Gene Engineering
· Development of hybrid microbial active substances with genetic engineering technology
· Discovery of microbial active substances with combined bio-transformation technology

Strain Identification
· Regular transplantation method
· Sand pipe method
· Liquid paraffin method
· Freeze vacuum drying method
· Ultra-low temperature freezing method
· Liquid nitrogen ultra-low temperature freezing method


Strain Preservation
· Microbial morphology and physiology
· DNA base composition analysis (G+C mol%)
· DNA-DNA Hybridization
· rDNA homology analysis (16S rDNA, 26S rDNA D1/D2, 5.8S rDNA ITS region sequence analysis)
· DNA based strain typing (RFLP, Whole genome sequencing, PCR-based DNA fingerprinting etc.)
FERMENTATION PROCESS OPTIMIZATION
· Lab scale: 30L to 200L fermentation tanks imported or domestic sourced
· Pilot scale: fermentation tanks of different volume from 4,000L to 12,000L
· Commercial scale: fermentation tanks of 10-120 m3
CHEMICAL SYNTHESIS
Capable of developing and manufacturing APIs and chemicals via semi-synthetic or full-synthetic process


Capability
· 1 R&D and scale-up lab for HPAPI
· Chiral Catalysis
· Tubular Reactor Process
· Heat related hazards analysis etc.
· 3 Standard synthetic labs


Facilities
· 1 R&D and scale-up lab for HPAPI
· 2 Preparative purification labs
· 1 Green Chemistry, process hazards and thermal analysis lab
· 7 Production lines at pilot scale
· 100+ Reactors of 20L-2000L for reactions at gram to ton scale. Reactions at larger scale will be conducted in the manufacturing sites.

ENZYME ENGINEERING
Capability
· Development of traditional enzyme catalysis technology
· Development of high activity expression of special enzyme protein and related catalytic technology through genetic modification
· Immobilization of enzymes for high efficiency and repeated uses
DOWN STREAM PROCESS-PURIFICATION
Capability
· Screen, development and preparation of Ion Exchange Resins, Microporous Adsorption Resins with large adsorption capacity, fast exchange speed and stable chemical properties
· Adoption of high-efficiency green separation technology with membrane and chromatography technology
· Design and implementation of complex product separation and purification process
· Preparation of standard of compound and the related impurities
Main Equipment
· Centrifuge: Disc, Decanter etc.
· Membrane system
· Chromatography equipment
· Drying equipment: Spray & freeze-drying

ANALYSIS
Capability
· Development, optimization, qualification, and validation of test method
· Compound characterization: GC-MS, LC-MS, NMR, XRD etc.
· Lot release testing: HPLC, UHPLC, IR, UV etc.
· Stability study
· Trouble shooting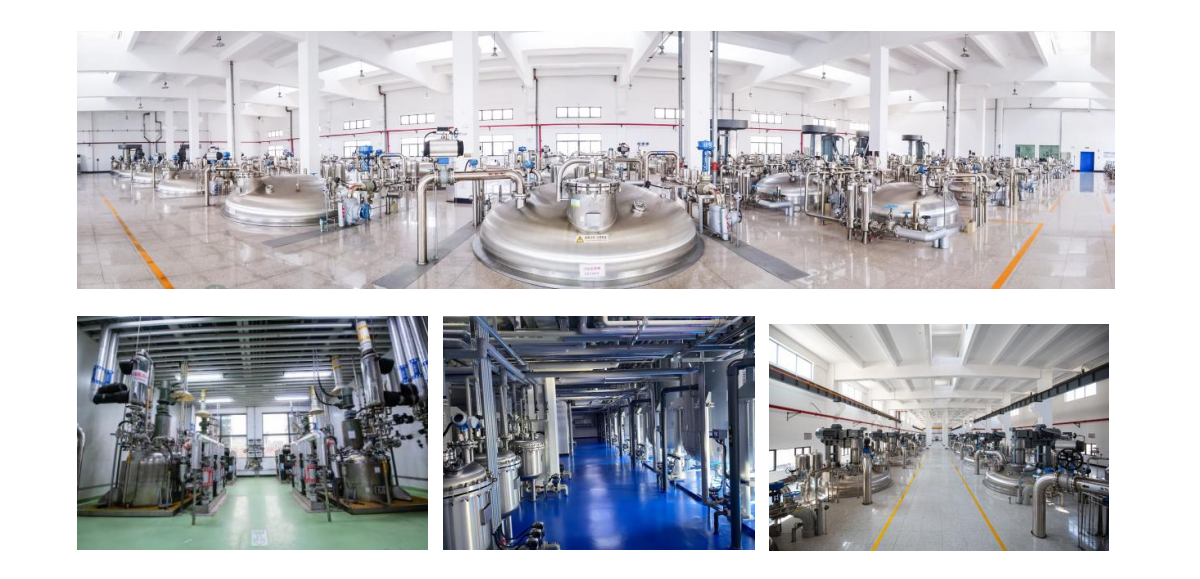 MISSION
Our goal is to provide global customers with first-class products and excellent services.